By Gordon Woodworth, Chronicle News Editor
A group of Glens Falls High School alumni calling itself Team Stan hosted Stan Rummel and his wife Susan at a Dec. 3 dinner at the Long Horn Restaurant and Pub in Lake Luzerne.
Mr. Rummel, now 72, was assistant principal at Glens Falls High School from 1968 to 1998. He is the rare school disciplinarian who was popular then and is popular now.
"I always felt so respected by Mr. Rummel," said Donna Slack, a 1976 graduate. "He was a father figure to so many people."
Becky (Addison) Troelstra said, "He was always a very fair man and he was genuinely concerned about all of his students. He attended our wedding, and we get a letter on our anniversary every year. He's just a special guy."
Team Stan maintains a Facebook page and published a book, By Example, with letters of appreciation for Mr. Rummel, who handled discipline and also advised many student groups.
He's famous for his seemingly infinite memory and that he still sends birthday cards and wedding anniversary notes to students decades after they graduated.
Karen Cormie, who graduated in 1990 and helped spearhead honoring Mr. Rummel, said it started with a Facebook posting by alum David Shabat to the site titled "You Know You Are From Glens Falls If…"
"Every school…needs a Mr. Rummel," Mr. Shabat wrote. "He was at my grandmother's funeral this week. I told him I had a million things to tell him, how this discipline-problem of a kid went on to do good things.
"He just said, 'You don't have to say a word. I've been paying attention the whole time.'"
Mr. Shabat continued, "I am thankful that I was raised in the era when school figures could impart strong advice without parents running in screaming…I needed to know a grown-up who was fair, consistent and a Golden Gloves boxer. It was the right place at the right time and I am grateful. Thank you, Mr. Rummel."
1,000 followers on Facebook page
That post prompted dozens of similar notes, which then led to a separate page, "Mr. Rummel Vice Principal and more."
Ms. Slack said, "The reaction was so heartfelt, and it didn't take any prompting at all."
Ms. Cormie said, "We started the Facebook page on June 30th, and we have nearly 1,000 followers and about 5,000 visits a week. In the first three days, we had more than 300 followers."
Mr. Rummel said he started writing notes to students in 1968 and continues to this day, writing on the same stationery he used when he was vice principal. "I have a good copy machine," he said with a smile.
He says writing the notes "was just the right thing to do. Every student I met was unique. It's been such a blessing to me to remain in this community."
Mr. Rummel keeps a low profile, and he seems a bit overwhelmed by this attention.
"It's very touching," he said. "It's hard to explain, watching kids like Karen [Cormie] and Donna [Slack] grow up and mature and have kids of their own become another generation of success.
"I have been blessed in life. I had wonderful parents, a perfect wife, three terrific children and a great job. Every step of the way I have been blessed."
Mrs. Rummel said her husband deserves the accolades "because he is a wonderful man…and it's wonderful to know how much he is appreciated."
The Rummels' three children are Stan, Jr., Christine and Holly Rummel-Jackson, who said, "He's an amazing person, and I'm so lucky to be his daughter."
'Underachievers just needed boost'
Mr. Rummel says, "I had the most interesting job. I was in charge of discipline, but I also was involved with Students Against Drunk Driving, the Student Council, the Key Club and chaperoned dances. So I worked with students who were having trouble, and I also worked with student leaders. It was a great balance for me."
Fittingly, he said the Stanley E. Rummel Scholarship helps students "who struggled and survived and are moving on to college." He says, "I worked with discipline problems, and many times these students were underachievers who just needed a boost in life."
Long Horn owner Jeremy Carner, hosting the Dec. 3 dinner, donated 15% (about $150) of that night's sales to the Scholarship Fund. Alumni and friends have donated about $900 more, Ms. Cormie said.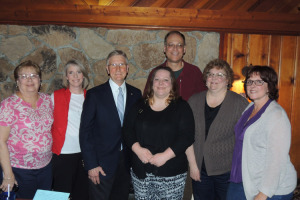 Donations to the fund may be sent to Chris Hearley, Glens Falls City School District, 15 Quade St., Glens Falls 12801.
Retired Glens Falls School Superintendent Tom McGowan, contacted for comment, said that when he thinks of Mr. Rummel, he thinks of "his integrity and his true understanding of a student's situation. And he was always honest with students and their parents. He did his homework and took the time to make sure what he was doing was fair.
"The kids thought he was fair and appreciated how he treated them, and Stan was a team player. He was a stabilizing element during times of change. I learned a lot by watching him and working with him, and I can't say enough good things about him. He's one of
those people you will always remember."
'Thanks, you never degraded me'
Alumnus Todd Whittemore wrote on Facebook, "Thank you Mr. Rummel for making a difference in my life. I used to get sent to your office quite a bit and you never, not even one time, degraded me or made me feel worthless.
"I knew I disappointed you and the way you handled me made me not want to let you down. I didn't feel like that with any other teacher or administrator in high school.
"I've been a teacher for 22 years now and when I have to deal with at-risk kids, I always use you as a role model! Thanks, Mr. Rummel, for not giving up on me!"
Contacted by phone, Mr. Whittemore said he has coached high school basketball for more than 20 years "and now I own my own restaurant. And a lot of it is due to Mr. Rummel. I could have gone either way, but because of him, I am a better father, a better husband, a better son and a better friend. He believed in me when I probably didn't deserve to be believed in, and it has made all the difference in the world for me."
Copyright © 2014 Lone Oak Publishing Co., Inc. All Rights Reserved.