By Meg Hagerty, Chronicle Freelance
Perhaps the most important story Darien Rozell hopes to pass down to her three boys is the one still unfolding at Pantry Hill, the country house on six acres in bucolic Greenfield she and her husband Eric have cultivated over the past seven years in an area where their families have lived as far back as the Revolutionary War.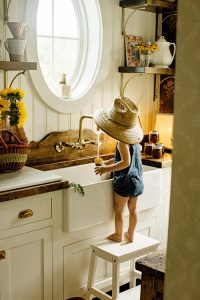 "Moving here, we were coming back to our roots — literally and figuratively," Darien (nee Parish) said.
She and Eric have known each other since sixth grade and graduated in 2007 from South High. They married and established careers in Seattle.
When they moved back to the east coast to be closer to family around 2016, they were looking to buy a 1700s-era house south of Boston when Darien's uncle, a contractor, urged the couple to look at a spec house in Greenfield near an area where her great-great grandparents had once lived.
There wasn't much to look at, though, as walls hadn't gone up yet and the couple didn't have a vision for what the house could grow into.
Six months later, when the house was ready to go on the market within hours, Darien and Eric took a second walk through. This time they were smitten.
"This house had, like down to the type of countertop I wanted. It checked all the boxes," Darien said.
In 2016 few employees worked remotely, especially in Eric's field of software engineering, but he got approval to work from home. Darien was able to transfer her position in digital editing for magazines and also began working from home.
'De-modernizing' new house
They set about "de-modernizing" the Greenfield home to make it feel like it had been around for a century.
Eric's father Todd Rozell, a building contractor, used drawings Darien sketched for him. She took design inspiration from the Rozells' historic camp on Raquette Lake, with the goal of imbuing a combination of "American comfort, English sensibility and French elegance."

Todd, Eric and Darien added mill work and wallpaper and replaced the light fixtures, faucets and backsplash. A mud room turned into a butler's pantry with farmhouse sink for cleaning vegetables.
Kitchen cabinets that were a mushroom color were painted creamy white with the silhouette of a honeybee cut into each. A new mudroom was added — complete with radiant heat flooring — that has an English manor vibe.
Outside, pine trees were removed to make way for a sustainable garden.
All along the way, family and friends c1me together to lend a hand, from erecting a fence and building a shed to sewing custom curtains and furnishing the house with heirlooms.
"Our families are so connected with the community; we draw on that," Darien said.

After a year, the couple followed the New England tradition of naming their house. Eric suggested "Pantry Hill" to reflect their love of gardening, cooking and family history.
"I think it really embodies what we're doing here," Darien said. "It was like this is the purpose of this property."
When Darien was pregnant with her second child, she felt the constant tug between motherhood and a career. She resigned from her job to devote more time to her family.
Started telling their story
A friend watching Eric and Darien work the land suggested they document their progress on social media. Darien thought she had a story to tell but wanted to make sure she had enough "substance" to write about. A year later in the spring of 2020 during the early months of pandemic, a Pantry Hill blog was born.
The Rozells' story of heritage, home and seasonal living, which she designed to be like "correspondence with a friend," resonated with readers; photos of the young boys clad in overalls in the garden, impressive lattice top pie crusts ready to go in the oven, and the parade of Hunter boots on the herringbone-patterned brick floor of their mud room.
Interspersed on the blog are shots of their ancestors occupying the same land generations before.
In less than a year, Darien had 10,000 subscribers. Two years later, it has more than 38,000. In addition, an Instagram account stands at over 35,000 followers.
Last year Darien felt she needed a "digital home" for her blog "away from the noise" of other platforms, so she built a website by herself, using her own images, as well as ones taken by her friend, photographer and videographer Candace Hackett.
National magazines take notice
The Pantry Hill story is now garnering serious attention. National magazines like Country Home have already done a holiday spread and two more undisclosed opportunities are on the horizon.
The Rozells and their property are currently in the fall issue of Victoria in a double issue that also features a tribute to the late Queen Elizabeth, an article on Highclere Castle (where the English saga Downton Abbey was filmed) and a story on the country house of author CS Lewis.
Darien is astounded that her house is joining such elite company.
"It's really cool that people are going to see Pantry Hill in a way that really fits here. I was completely not expecting that," she said.
Darien hosted and sold out three pie workshops this summer (using a closely guarded family recipe for the crust).
Orders for a limited-edition candle with a signature Pantry Hill scent Darien made with a friend exceeded their limit in three hours, well before her audience on the west coast had even woken up.
The Rozells are pleased to see Pantry Hill catch on among those longing for a simpler way of life and they're excited about the possibilities down the road, but Darien says it's more important to build a legacy for her boys.
"Our goal is to help them form a deep understanding of who they are and where they come from…that no matter where life takes them, they always have a home here," she said.
Learn more about Darien Rozell on her website at pantryhill.com.
Pantry Hill's Vanilla Extract
Darien Rozell writes: Homemade vanilla extract is leagues more flavorful than the imitation version found in most grocery stores and it's incredibly simple to do yourself, making it an ideal gift around the holidays when everyone is in the kitchen. We make them in glass apothecary jars and simply drop them into little linen bags stamped with our logo.
Ingredients:
Fresh vanilla beans – You can find them in specialty grocers, but they're cheaper to buy in bulk. We order Madagascar Bourbon Beans from beanilla.com.
Medium-grade vodka – We use Tito's.
Tools:
4oz glass amber bottles with lids – We purchase them by the case on Amazon.
4"x6" linen bags – Also purchased on Amazon.
Small funnel
Directions:
Cut each vanilla pod in half, so they'll fit in the jar. With a sharp knife, cut a shallow slit in each pod, exposing the seeds inside. Place three halves in each jar. Using a small funnel, fill each jar with vodka. Cap and shake. Let the jars rest for 6-8 weeks before using or gifting.
 
The gift that keeps on giving:
When you've used the full jar of extract, refill with vodka and let it sit another 6-8 weeks, you can do this once before the beans begin to lose flavor. Or remove the pods and lay them out to dry. When completely dry, place them in an air-tight jar of sugar, shake and let rest for a few weeks for vanilla sugar, delicious in tea and baked goods.
Copyright © 2023 Lone Oak Publishing Co., Inc. All Rights Reserved