By Chris Liggio, Chronicle Calendar Writer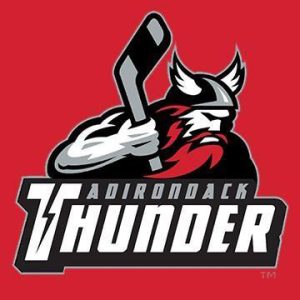 Only in the East Coast Hockey League would the lower ranked team, in this case our Adirondack Thunder, gain home ice advantage through the first three games of their round one match against the top seeded Newfoundland Growlers.
A fitting follow up to the Worcester Railers essentially handing them a playoff berth Sunday when they pulled the goalie in regulation allowing for the Thunder go ahead goal.
Nonetheless they've made the dance so it's time to prepare for the postseason grind.
Playoff hockey is a different animal. The opposition won't squander a tie game potentially heading to overtime in order to attempt to win in regulation. The game will become far more physical and much more systems oriented. Both teams will more than likely revert to a defensive, shutdown mentality.
I am a brutal realist in my hockey analysis. Adirondack will have its hands full with this Growlers squad — a team boasting 10 players who scored 40 or more points compared to only four on the Thunder. The Growlers possess championship caliber depth. Four of Newfoundland's said 10 scored at over a point per game. Only one player on Adirondack, Shane Harper, can make this claim.
Even though defense becomes the calling card this time of the year, someone on Adirondack besides Patrick Grasso will have to light the lamp more routinely for them to make a deep run.

•
The Adirondack Thunder qualified for the Kelly Cup Playoffs and are hosting the first three games of the best-of-seven series against the Newfoundland Growlers in the North Division Semifinal.
Game one was Wednesday.
Here's the rest of the schedule.
Game 2 – Friday, April 21 – 7 p.m., Cool Insuring Arena
Game 3 – Saturday, April 22 – 5 p.m., Cool Insuring Arena
Then the series moves to Newfoundland
Game 4 – Tuesday, April 25 – 5:30 p.m. EST – at Mary Brown's Centre, Newfoundland.
Game 5 (if necessary) – Thursday, April 27 – 5:30 p.m. EST – Mary Brown's Centre
Game 6 (if necessary) – Sunday, April 30 – 2:30 p.m. EST – Mary Brown's Centre
Game 7 (if necessary) – Tuesday, May 2 – 5:30 p.m. EST – Mary Brown's Centre
Buy tickets for home games at https://seatgeek.com/adirondack-thunder-tickets, Cool Insuring Arena Box Office and the Adirondack Thunder Front Office. For more information on ticket packages, call the front office at 518-480-3355 or visit www.ECHLThunder.com/tickets. For all the latest Adirondack Thunder news, follow the team.
Copyright © 2023 Lone Oak Publishing Co., Inc. All Rights Reserved