By Mark Frost, Chronicle Editor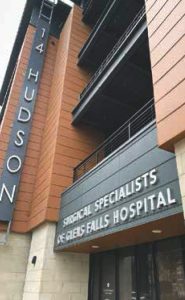 OrthoNY, a Capital District medical practice, is Glens Falls Hospital's new provider of orthopedic care, succeeding the hospital- owned Orthopedic Specialists, which it acquired as North Country Sports Medicine five years ago.
Dr. Andre Johnson and Dr. Adam Brod, the two remaining physicians in Orthopedic Specialists, have joined the OrthoNY practice.
Dr. Sean Kennedy, vice-president of the hospital's Physician Network, told The Chronicle, "Due to retirements and physicians leaving the area, we really had to sort of think outside the box. What was a good way to make a sustainable orthopedic" practice here?
"We looked into a lot of different options and OrthoNY seemed to be a great fit. OrthoNY allowed us to preserve access to the care for our patients, as well as to expand on the services that we're able to provide."
Dr. Amar Parikh, a managing partner of OrthoNY whose own practice specializes in Spine & Back, said of the expansion to Glens Falls, "We have had a growth mind-set ever since inception. We started back in 2013. And this year just happens to be our 10 year anniversary.
"We initially started with collaboration with Saratoga and following, Schenectady. We've built a new office in Clifton Park over the course of the past few years. And this seemed like the natural progression.
Dr. Parikh said OrthoNY's "docs" were already friendly with some of their counterparts in Glens Falls. "We've had some presence there in the past," he said.
"But given the burgeoning relationships that we were looking to have, the use of Glens Falls operating rooms already, this seemed like the natural progression of growth for OrthoNY."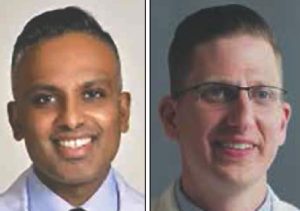 Dr. Johnson and Dr. Brod join Ortho-NY along with "some mid-level providers [PA's]. And then we have a group of four to five other docs that are going to split time within Glens Falls, as well as their current practices in Saratoga County."
How many orthopedists does OrthoNY have? "We're north of 40, I believe we're on 44 right now," Dr. Parikh said. "And we have somewhere around that same number, around 37ish mid-level providers," totalling roughly 80 providers.
The hospital's Dr. Kennedy acknowledged, "We found it a little bit of a struggle in trying to recruit new doctors. And this provides us a bigger orthopedic network and a bigger draw for new physicians coming to this area."
He added, "It also allows the hospital to benefit from the surgical cases without necessarily having to support the physician practices, which can sometimes become more expensive for the hospital…to help keep services in the community…
"Now we're getting the upside of being able to capture all these surgical cases and caring, but not necessarily have to carry the cost of the medical practice. So it sounds like a pretty good deal for us."
Both Dr. Kennedy and Dr. Parikh expect surgeries to increase at the hospital.
"There's been a crunch of capacity within many of our hospitals in our community," said OrthoNY's Dr. Parikh. "That includes at St. Peter's Hospital, Albany Medical Center, Saratoga Hospital, and even Ellis Hospital.
"As a result of some of the reduced operating room time at Saratoga Hospital, many of our providers within the past year have also gotten credentialed to operate out of Glens Falls.
"So these patients that are operable candidates now from Ortho New York that were historically treated elsewhere, have already begun surgical cases at Glens Falls Hospital."
He said as OrthoNY's presence grows, "there inevitably will be an increase in surgical volume at Glens Falls Hospital."
Dr. Kennedy said the increase "already has begun…Since January, we have had three Ortho New York providers already start doing cases here, including the anterior hips. And they have been pretty satisfied with the services we've been able to give to them."
He said, "Every month, we've been getting another Ortho New York surgeon knocking on the door, asking for some opportunity to do cases here.
"So I think it's going to continue to blossom into a strong relationship and allowing us most importantly to be able to get that access of care to our patients."
The orthopedics organization has changed but the location stays the same. "Luckily," Dr. Kennedy said, "we have a state of the art building in 14 Hudson and it was outfitted for orthopedics… We didn't have to find new space, outfit new space, or anything along those lines.
"So that part was easy. This also allows some degree of continuity; the patients are going to still be able to go to the same, what they know as the orthopedic practice in town. It's just going to be with a different sign on the door."
Dr. Kennedy noted, "We're actually going to decrease the space a little bit and kind of divide the orthopedic space into half…Probably we built bigger than we actually needed.
"At the time, we were building for a five-doctor, 10-PA practice, and they don't plan on having that large of a practice there in terms of bodies at one time. So we were able to say we can move them into half the space."
How will the freed up space be used?
"There's still some options that we're considering," said Dr. Kennedy, "but we might, most likely [are], going to be moving other practices that are off campus to campus."
Is there any downside to the new arrangement?
Dr. Kennedy replies, "There's really not a lot of downside, because we're not losing anything — we're able to preserve services. In fact, we're enhancing most services."
He said staying on are, "Dr. Andre Johnson, who is a sports medicine fellowship-trained surgeon, so he does a lot of shoulders and elbows and sports related injuries.
And, "Dr. Adam Brod is an upper extremity and hand surgeon who does a lot of wrists, shoulders and elbows.
"Both of those gentlemen have been in our area for 10 years, we have been very supportive of trying to keep their career going," which was another reason for the Ortho New York relationship, he said.
"This is something that those surgeons were really interested in doing. We found that this is probably going to be something that works out really well for our hospital and our community.
"We did our best to make sure that everyone, all of our staff members, including the non-physician staff, were able to either be hired by Ortho New York or to be moved on to another position in Glens Falls Hospital. Some of them chose to go other places, but at the end of the day, we really made sure this was not disruptive to our staff.
"Again, I think that this is really going to lead to a positive effect on the hospital's bottom line by allowing us to increase our complement of physicians and cases that we can do here while still being able to provide ortho care for all of our patients in the office setting that they have become accustomed to."
Dr. Parikh said, "We did our due diligence on it. We've met with our referral sources, we met with the providers, we've met with the community. We've done a market assessment, and it seems like the timing is right. The community is engaged and is very excited about this transition. And, most importantly, I think the providers — who are the key stakeholders here — are very excited about this transition, which really makes this a long term plan."
Hospital now will have anterior hip surgery, ankle reconstruction & interventional pain management
Glens Falls Hospital and OrthoNY say OrthoNY's presence results in more complicated surgeries being made available at the hospital.
Dr. Sean Kennedy, vice-president of the hospital's Physician Network, said, "Not only can we preserve our normal Services — Dr. [Adam] Brod is a fellowship-trained hand surgeon, Dr. [Andre] Johnson is a sports medicine fellowship" — but OrthoNY adds "more complex joint reconstruction."
He cites "anterior hip surgery, which we've never been able to do here before" and "more complicated foot, ankle reconstructions, which is also another new service."
Asked to elaborate on the hip procedure, Dr. Kennedy said that unlike the "classic posterior approach," anterior is "a less invasive way" and "typically has less pain, quicker recovery.
"We've never been able to offer that here before so it allows us to deliver on the newest technologies and procedures out there. Patients from our town have been definitely going south to seek it."
Dr. Amar Parikh, a managing partner of OrthoNY whose own practice specializes in Spine & Back, told The Chronicle, "We have one pain management doctor that's going to be there as well, to provide what is a really new service for the Glens Falls community."
Dr. Parikh said the specialty is "interventional pain management, really for any sort of chronic pain condition, which there's 100 million people in America currently suffering from.
"It's a high need and having spoken to the CEO of Hudson Headwaters, people in the Glens Falls community want to be seen in the Glens Falls Community.
"This is going to be a landmark move wherein they're going to have the opportunity to seek pain management specialists who can perform full interventional treatments within the Glens Falls community itself." — Mark Frost
Copyright © 2023 Lone Oak Publishing Co., Inc. All Rights Reserved