By Gordon Woodworth, Chronicle News Editor
Two upscale southern Adirondack businesses have new owners.
Friends Lake Inn
John and Tammy Breymaier purchased the Friends Lake Inn in Chestertown for $2.1-million in early June from John and Trudy Phillips.
"The numbers on it looked pretty good, and it had a good cash flow, so we decided to take a look at it," Mr. Breymaier told The Chronicle.
"The online reviews on the Inn are great. People loved the food, love the wine and love how the employees treat them. The location was great, the opportunity for growth was there, and it looked like a good business, so we decided to go for it."
Mr. Breymaier said he is a defense industry  consultant in Virginia and his wife is a recently retired executive with Lockheed Martin. Mr. Breymaier said that after his wife took early retirement "we started looking around for a business to buy.
"We have a second home in the Outer Banks of North Carolina, but nothing there excited us. We looked all around the country, from Alaska to New England, and we found the Friends Lake Inn on a listing online."
Mr. Breymaier said their son John, a former Marine who served two tours in Iraq and Afghanistan, is helping to manage the business.
Mr. Breymaier said they have already started renovating the first floor, replacing wallpaper and installing a gas fireplace in the Bistro. "We are also going to add fireplaces in four more rooms, and give the rooms that don't have fireplaces more of an Adirondack feel," he said. "The rooms that are done that way now do very well."
Mrs. Breymaier said she has managed restaurants and hotels with Lockheed Martin, but more behind the scenes.
"This is front-line experience, and we felt the Inn had a lot of untapped potential," Mrs. Breymaier said.
"I want to emphasize that while we are new, we have kept the same great staff who are providing the same great service and food. We feel very fortunate to walk into a great staff like we have here."
She said Paul Di Cresce, who was food and beverage director for nine years, is back, "and we're very pleased." Other key members of the management team are executive chef Matthew Bolton and sous chef Scott Dewar, Mrs. Breymaier said.
The Owl at Twilight
Mark Nazigian purchased The Owl at Twilight in the Essex County hamlet of Olmstedville from founders Rich and Joann Dwyer on June 2. County land records indicate the price for the property, separate from the business, was $225,000.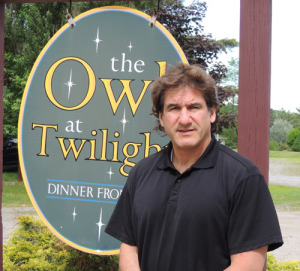 "I've been coming to Schroon Lake since I was a kid," Mr. Nazigian told The Chronicle. "My father worked at the Word of Life Ranch, and my brother Jonathan is director of the ranch now."
"This was always my favorite restaurant in the area, and I became friends with the owners…I told them if they were ever interested in selling to let me know. I think they wanted someone who was not really going to change it, and keep it the same, and that's what I plan to do."
Mr. Nazigian said he grew up in the Philadelphia area, was a catering manager for Universal Studios and NASCAR in Florida, ran two Italian restaurants in Minnesota and started a dining club in Minneapolis.
Mr. Nazigian said he plans to operate The Owl at Twilight seasonally, from mid-May to mid-October, "and we'll be open seven days a week in the summer.
"Basically, I haven't made any changes. The staff is still here. The chef, Sue Callanan, who has been here for six years, is still here.
"I might add a couple of different menu items, but basically I will keep it how everyone loves it. The restaurant has a very good following, and most of the people I have talked to want it to stay the same."
Mr. Nazigian said he can cook, but he prefers being in the front of the house. "I like to talk to the customers to make sure they are happy," he said.
Mr. Nazigian said business so far has been good. "[Saturday] night was very busy," he said. "People have been very receptive. A lot of folks were unaware of the change. We didn't broadcast it. But everyone is leaving happy."
He said he likes to ride his motorcycle and boat. When not in the Adirondacks, he splits his time between the Black Hills of South Dakota and Florida. "Those are my three favorite places," he said.