By Gordon Woodworth, Chronicle News Editor
When Mayor Jack Diamond leaves office at the end of this year, he estimates Glens Falls will have more than $4-million in reserve.
"The City has never had this much money set aside," he told The Chronicle. "We are headed in the right direction. It's nice to have a little bit of a cushion."
When he took office in 2009, starting what will be nine years in office, the unrestricted reserve was $159,857, he said.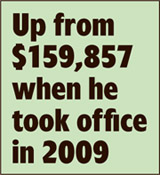 Officially, the City has $3,646,966 in unrestricted reserve funds. That's the total from the 2016 draft audit, the last official measure of the City's financial health. But the Mayor thinks the reserve fund could easily top $4-million by the end of the year.
"The projections are very good," he said.
But, he emphasized, "This is not just about Jack Diamond. Everyone pitched in. Every employee put the City in a better financial position. They worked hard, and they delivered."
"We've also set up a capital account three years ago for the acquisition of large equipment. We've got more than $200,000 in that account."
How did the city's finances improve?
"We made changes through conservative spending and cross-training employees and reducing staff," Mayor Diamond said. "We consolidated economic development, we outsourced dispatching, we closed our incinerator, which saved $350,000 a year, we're consistently collecting outstanding revenues for water from Queensbury, South Glens Falls and Moreau, our sales tax revenue is up, and we got out from under the Glens Falls Civic Center."
He said the City will fully repay a reconstruction and energy project bond in 2018, making a final payment of $216,959.51, and that it's already paid off the bond for the Cool Arena's video board and sound system improvements, as well as the $48,847-a-year payment to Johnson Controls for an energy performance contract.
He said that after 2018, the City will owe just less than $200,000 on a bond taken out to pay for new seats for the arena, and that annual payments will be about $13,000 a year, compared to $336,753.27 the City paid in 2014.
Workforce reduced by 23 positions
City personnel director Judy Villa White provided rough employment figures. She said in 2009, at the end of September, the City had 241 employees. In 2017, it has 218. She emphasized that the City's total employee count fluctuates due to seasonal hires like those in the recreation, transit and police departments (crossing guards).
"Keep in mind that there were decisions not to replace some jobs due to attrition, and some full-time positions were replaced with part-time positions," she said.
The Mayor said, "Our department heads are asking for needs, not submitting budgets that are inflated. The whole process has changed. Everyone has done a great job staying within our spending plan.
"We never exceeded the tax cap, and we made a lot of changes over time. At one time we had nine people working in the cemetery. We're down to two full-time employees there."
The Department of Public Works now has 27 full-time employees, said senior account clerk Carrie Lord. In 2009, it had 37. That's a 27% decrease in nine years.
"In 2010, we had three full-time people in the assessor's office," Mayor Diamond said. "Now we have a part-time assessor and one clerk. Purchasing used to have one full-time and one part-time employee. Now it has one full-time employee."
The recreation department not long ago had three full-time employees. Now mayor's assistant Mike Mender oversees the department, as well as the budgeting process, and Mayor Diamond said the City is looking to hire a full-time clerk to assist him.
He said, "Department heads have been very frugal, and they all have been coming in under budget," and that the water budget has $3.24-million in reserve funds, and the sewer budget fund balance is nearly $4.1-million.
"We're in a good spot now to use fund balance to minimize rate increases, and this is after paying $15-million to repair dams under the Department of Environmental Conservation consent orders," the mayor said.
Copyright © 2017 Lone Oak Publishing Co., Inc. All Rights Reserved.