By Gordon Woodworth, Chronicle News Editor
Chef and Queensbury grad Jonathan Greenwood has purchased Massie's, the venerable Italian restaurant at 69 Main Street run by the Russo family since 1929.
"We're giving it a little bit of a facelift now, and will reopen on Friday, Jan. 29, at 4:30 p.m., for dinner," said Mr. Greenwood, 31, when interviewed on Tuesday morning.
"It will stay Massie's," Mr. Greenwood said. "It's got a good reputation. Their food is good. We're just going to clean it up, make it a little more inviting and restore the luster. The idea is to keep a landmark in the area. Over time, I'll start putting my little touches on it."
Mr. Greenwood was executive chef at Dunham's Bay Resort on Lake George, and most recently was a chef at Copper Mountain, Colorado.
Now, he's back home.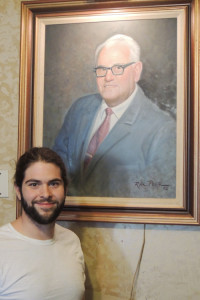 "I grew up coming to Massie's, and my great-grandfather Ralph 'Whiter' Greenwood was great friends with 'Massie' and worked here at the restaurant."
Seller Pat Russo: 'He'll do a great job'
Contacted for comment, Pat Russo, the family's final operator of the restaurant, said, "I feel good. I'm very fortunate to find someone that is going to keep it Massie's.
"I didn't want someone coming in and changing things and making it a Chinese restaurant or something.
"I like John a lot…I wanted someone with a cooking background, and he's already added some new ideas to expedite things in the kitchen.
"I've been watching him for a month now, and I like what I see. He'll do a great job."
Mr. Russo's father, Ralph J. Russo, opened Massie's at the onset of the Great Depression and built it into an area mainstay.
When Mr. Russo, known as Massie, passed away in 1992, sons Bob, Ralph, Jr. and Pat took over the restaurant.
When Bobby Russo passed away in 2011, Pat came out of retirement to run Massie's.
"I have mixed emotions," Pat said. "But I've got a lot of things to do around the house. It's going to be new to me."
Asked if it's the end of an era, Mr. Russo laughed and said, "It's the end of the Russo era!"
Jonathan Greenwood said most of the 14 employees are staying on.
"I'm excited," he said. "I have gotten a ton of support, even from people Pat has introduced me to."
He said the vintage photos and old-style menus will remain, as will the mural paintings in the dining room.
"We're doing some painting and adding some new lighting," he said. His twin brother Jeff, who owns his own construction company, was hard at work, as was their father Mike and a crew of family and friends.
He's bringing back the Massie's relish trays, and of course keeping the paté and garlic bread served with each entreé.
The turn-key sale includes the two buildings that house Massie's and two upstairs apartments, as nearby 83 Main Street that houses a beauty salon and a tattoo parlor, and the parking lot across Main Street.
The restaurant's two buildings and the parking lot were listed in 2014 for $399,000. Mr. Greenwood declined to reveal the purchase price.
Pat Russo remembers "Whiter" Greenwood, Jonathan Greenwood's great-grandfather. "He worked at Massie's and also worked at the Corner Grill for years. It's kind of ironic that his great-grandson is now taking over Massie's."
Copyright © 2016 Lone Oak Publishing Co., Inc. All Rights Reserved.