By Cathy DeDe, Chronicle Managing Editor
Holy moly! Saturday night at Proctors Theater in Schenectady, in an event staged like the Tony Awards and likely surpassing Broadway's best for sheer energy, 16 schools were celebrated in the first-ever Regional High School Musical Theatre Awards. North Country kids came out tops!
Patrick Shannon of Queensbury won Best Actor for his role as Jean Valjean in Les Miserables. He's headed to the National Awards on Broadway in June.
Vincent Canale-Rouse of Hudson Falls won best supporting actor as Lumiére in Disney's Beauty and the Beast — which the energetic young Vinnie also largely choreographed himself!
Natalie Davey of Warrensburg, farthest north of the participating schools, won best actress for her role as Celeste in Godspell.
These kids were up against powerhouse, well-heeled schools including Albany High, Niskayuna, Bethlehem.
I was sitting by Natalie's director, Jim Corriveau. When her name was called — such a longshot! — he about jumped through his own skin in excitement.
I'll boast here: Writing about Warrensburg's Godspell earlier this spring, I'd singled Natalie out for her sprightly stage presence and powerful voice.
It's a reminder: Talent is talent. You can put our students up against anyone and they will shine as brightly as we see 'em.
Qby. kids nailed it!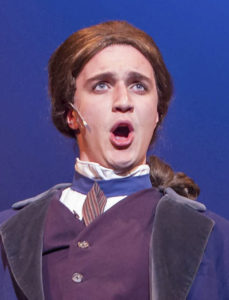 At Saturday's awards ceremony, the five schools up for "Best Musical" each got to do an ensemble number from their show on the Proctors stage.
Each performance was a thrill, well-presented on a spare stage, accompanied by the masterful professional pit orchestra. Albany High School did a modern take on "I'd Do Anything" from Oliver!, Niskayuna was operatically impressive in "Masquerade" from Phantom of the Opera.
Voorheesville and Bethlehem High Schools both showcased incredibly executed tap dance ensembles and deeply talented leads, from Mary Poppins and The Wizard of Oz, respectively.
But, it was our kids, OUR kids from Queensbury High School who brought the house down with their spot-on, heart-pounding, killer, nailed-it production number, "One Day More" from Les Mis.
This observer will bear witness, practically objectively but in all seriousness — it didn't get louder all night in Proctors Theatre than it did for that song.
The audience, packed with parents and friends each celebrating their own town, just simply gave over to the power of it. The crowd went increasingly, vociferously nuts as the momentum from the Queensbury performers just kept building.
The depth of talent, Tommy Socolof and Kailey Strafford as Ternardier and his wife, Josh Willis leading the march, Julian Tushabe as Javert and then Patrick Shannon, he of the deepest voice and most stately presence — all of them! — the crowd was cheering as one, gut-struck, by the close.
Credit teacher Avery Babson, in her directorial debut with the school, for sharp staging, timing, casting. Credit her hard-working students. Credit, also, Queensbury costumer Sherry Recinella for finery that helped sell the number.
Classy throughout
This was a pinnacle, but the whole event was like that — explosive, exhilarating, crazed excitement, starting with the first moment that the young actors ran on stage, singing and dancing in near-perfect sync for the all-school opening ensemble number, cheered on by their parents, friends and classmates in the audience.
The North Country was well-represented in that audience. Students from all four nominated local schools — South Glens Falls, also — performed in the big ensemble numbers that opened and closed the show. Parents were there in droves, as well as other theater geeks such as myself.
Proctors director Phillip Morris is a force of nature. He told me after the ceremony that he'd waited three or four years to launch this event because he didn't want to do it unless our region's winners could go on to "the Jimmys."
"The Jimmys" is the familiar name of the National High School Musical Theatre Awards, named in honor of producer James Nederlander. Young best actor and best actress winners from around the country will gather for a week of workshops and other activities in June.
"They only have so many slots," Mr. Morris said.
The program culminates with the national awards, staged much like the Proctors event, but at the Minskoff Theatre on Broadway, where Disney's Lion King is playing.
Young Mr. Shannon will be the local representative, along with Jaynie Parmenter of Voorheesville, who won best actress for her lead role in Mary Poppins.
"We expect to hear great stories from you, Patrick and Jaynie, when you get back," Mr. Morris said Saturday in his closing remarks.
The whole event was classy. The award presenters, arts leaders representing a who's-who of regional organizations wore tuxedos and fancy dresses. To announce the winners, they opened envelopes crisply under a microphone, then announced, "Best Choreography goes to…."
The winning students' speeches were uniformly tight and sincere, the production numbers clever and sharp.
They showcased the Best Actor and Best Actress nominees in two montage numbers that had the young performers in costume and character, as well as fine voice, singing short excerpts from their signature numbers.
The whole thing played out in less than two hours, including intermission.
Behind the scenes, the students spent four mandatory rehearsals — including all day Saturday before the show itself — learning the numbers, familiarizing themselves with that big Proctor's stage, and bonding with like-minded theater students from around the region.
Their thrill was palpable. Imagine: To be performing at your best, in that company, on that storied stage, for an enthusiastic, packed audience.
"This has been the greatest experience of my musical career," Warrensburg's Natalie Davey said in her acceptance speech for supporting actress.
This writer agrees: It may well have been mine, too. I am surely still flying.
Pat, Vinnie, Natalie: 'It was incredible'
Chronicle Managing Editor Cathy DeDe writes: The Chronicle asked the three local award winners for their thoughts on the Regional High School Musical Theatre Awards.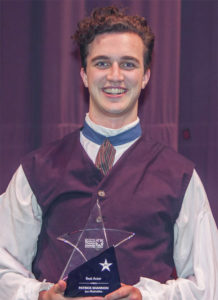 Best Actor Patrick Shannon, a senior at Queensbury High School, said "Proctors was one of the most incredible theatre experiences I have ever participated in.….The audience was electric…."
He said, "It hit me and my friend Tommy (Socolof), right before we went on for 'One Day More' that this was going to be our last performance together after almost 30 shows."
Next year, he said, he plans to attend Colorado State University for psychology. This summer, "I plan to work my butt off and hopefully get a motorcycle."
He said, "It's really surreal that the Jimmy Awards could be one of my last performances, but at the same time it's an incredible honor. It's a bittersweet."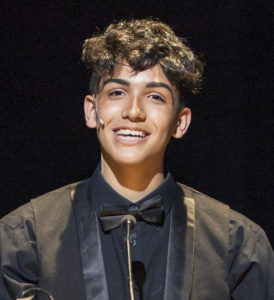 Supporting actor Vinnie Canale-Rouse, a junior at Hudson Falls thanked his mother and "my dance studio" — Bolton Dance Academy, he later told The Chronicle.
He said, "It was one of the greatest experiences I have ever had to be around such talented people. I hope I can get nominated next year for our production of Into the Woods." He said he does aim to pursue a career in theater.
Supporting actress Natalie Davey, a Warrensburg junior, said, "To be able to produce the best performance I've ever been in, in just four practices was amazing…The instructors were encouraging and extremely productive, making us get the job done while having fun."
She "Being on stage was exhilarating especially when we performed because the audience reacted to our energy with such excitement that it made us want to give out even more."
Also, "The judges were pleasantly surprised with little upstate Warrensburg, so I am proud to represent."
Copyright © 2017 Lone Oak Publishing Co., Inc. All Rights Reserved.