By Gordon Woodworth, Chronicle News Editor
It's good to be Joseph Girard III these days. Having quarterbacked the Glens Falls High School football team as it won the state title in November, the sophomore then led the basketball team to a 24-1 record and was voted first-team All-State in Class B for the second straight year and second-team sophomore All-American.
He has already scored 2,157 points in three years of playing varsity, on pace to shatter the state's all-time scoring record of 2,946 set by Lance Stephenson.
This spring, at 16, he's playing for Albany City Rocks' 17-and-under AAU team and starting against many of the nation's top high school players.
AAU ball draws big coaches
On Memorial Day weekend, City Rocks will play in a California tournament against a team featuring Manute Bol's 7-foot-2 son Bol Bol (one of the top recruits in the country who just got a full scholarship offer from Kentucky) and Shaquille O'Neal's 6-foot-10 son Shareef, who has committed to Arizona.
"The Nike Elite Youth Basketball League is the highest level for high school basketball," Girard told The Chronicle. "You're playing against all of the top recruits from around the country. All of the Final Four teams this year, most of their players played in the EYBL. If you want to be the best, you have to compete against the best."
Jim Hart, Girard's AAU coach, says, "Joseph is one of the top 100 rising juniors in the country. There are 40 teams in the Nike EYBL, so there are 200 starters, and 180 of them will be going to high-major schools, BCS schools."
Earlier this month, City Rocks played four games in Indianapolis. Girard scored 19 points in one game and went 5-for-7 from three-point range. He's averaging 9.8 points a game and leads the team in three pointers with 21 in eight games.
Louisville's Rick Pitino and Villanova's Jay Wright were among the coaches watching, said Coach Hart.
"It's crazy," says Girard.
Scout Pat Lawless of GiveNGoBasketball.com said, "When people are talking about the best high school shooters in the country, Joe is one of the first names that comes up. Because of his shooting ability and his feel for the game, he is being recruited by high-major schools. ACC, Big East, Big 10 — all of those schools will be recruiting him pretty hard."
A Division I coach who spoke with us on the condition that we not identify him said Girard, as a 16-year-old, is playing against 17-year-old players in the Nike EYBL, which he said "is not for the faint of heart. And he's shooting 40% from three, and is involved in a lot of action.
"Any kid that can do that has a chance to be a good mid-major player at worst. The kid can make shots. He's going to be a hot commodity. Once June rolls around, he's going to get calls from all levels as recruiting starts heating up."
Coach Hart said, "He's a sophomore and he's getting it done. He has exceeded my expectations about how well he could handle everything."
He said Girard, who's 6-foot-1, often goes head-to-head with guards 6-foot-4 or taller. "Then the question becomes, can he defend that guy?" he said. "And Joseph is getting pretty good at that, too."
7 Division I scholarship offers
Lawless said he has seen him play at least a dozen times. "He's obviously a tough kid. He guards guys who are 6-3, 6-4, and his toughness allows him to guard guys bigger than he is. He also knows the game very well."
Girard as a sophomore already has six full Division I scholarship offers — from High Point, UAlbany, George Washington, Siena, Penn State, Tulane and most recently Vermont, which offered earlier this month.
He's made "unofficial" visits to Michigan (coached by John Beilein, who coached Joseph's dad Joe Jr. at LeMoyne), Notre Dame, Syracuse, Vermont, Albany, Siena, Penn State, Fordham, George Washington and High Point.
One of his AAU teammates is Buddy Boeheim, son of the legendary Syracuse head coach Jim Boeheim.
Hopes to decide on school next year
Girard said he plans to choose where he will play in college "before my senior year. I'm going to narrow it down eventually, but I don't feel like I've reached my full potential as a basketball player yet."
His father said, "From a mom and dad's point of view, I'm telling you he will decide as a junior because he's got so much pressure on him, and we'd like him to really, really enjoy his senior year."
Girard's schedule these days is more full than during football or basketball season.
Monday after school, he works out with Dr. Bryan Briddell at Saratoga Peak Performance. ("He's a disciple of Lee Taft," Joe Jr. said. Lee Taft is Jimmer Fredette's uncle and works with athletes on speed and agility training).
"On Tuesday after school I go to train with Steve D'Agostino in Schenectady from 6:15 to 7:30," Girard said. "It's usually me, [UAlbany standout] Joe Cremo, [Maryland standout] Kevin Huerter sometimes, some of the local college guys. We do drills and shooting and dribbling competitions."
Wednesday it's back to Saratoga Peak Performance. On Thursday "I'll go to the 'Y' and play pick-up there, run a little bit with ACC guys and older guys that I know."
Fridays are his AAU travel days.
Free time: Video games, cliff jumping
What does Girard do when he's not playing or training? "Mostly I just hang out with my friends. We'll either play video games or over the summer, last year we started doing this more because as we get older, we can get boating licenses, so one of my friends works up at a marina on Lake George, so we go out there and tube and my parents probably don't know but we go cliff jumping into the water."
He said he takes out the garbage at home, but his mom Arleen interjects, "He forgets a lot. I cut him a little too much slack."
Does he mow the lawn? Shovel the driveway? "No, my dad actually tells me not to mow the lawn or shovel," Girard said. "He says it will mess up my jump shot."
His father said, "He's a good athlete and a good boy, his mother and I take care of that. If he goes off the track and is going to be a screwball, then he can go to work and go cut the lawn and shovel snow."
Embraces pressure of being a Girard
And the pressure of being a Girard in Glens Falls? "I embrace it," Joseph said. "Some people say we make the team because we're a Girard. That's fuel for the fire. We have to prove that's not the reason we're on the team or starting.
"Girards have the reputation of being athletes and going out there and doing whatever it takes to win games. I have a lot of cousins, and we all have the same moxie, we all go out there.
"Girards never quit, so we all know if we're going to do something, we're going to do it to the best of our ability."
Joseph was very close to his grandfather and namesake, Coach Joe Girard, who passed away in February 2016.
"I have his Mass card in my room," Joseph said. "Right after we won the state title in football, I stepped one foot into my room and the card fell onto the floor. I know he's there, wherever I've gone.
"Every time I wake up, or every time I'm feeling down about myself, I think about him because he wouldn't quit…He was a winner, and I've got to be a winner, carrying on the family tradition."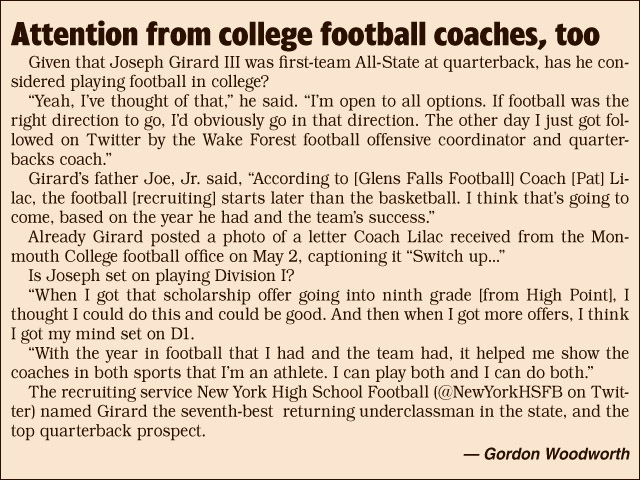 Copyright © 2017 Lone Oak Publishing Co., Inc. All Rights Reserved.