By Gordon Woodworth, Chronicle News Editor
Glens Falls High School basketball standout Joseph Girard III will announce his college choice Sunday, Oct. 14, at 7 p.m., in the Queensbury Hotel's Adirondack Room.
The all-time leading scorer in New York State history will select from his final six schools: Boston College, Duke, Michigan, Notre Dame, Penn State and Syracuse.
The most intensely recruited area athlete in recent memory, Girard also quarterbacks the football team and is a member of the National Honor Society.
He is also very good at keeping his thoughts to himself. I've been around him quite a bit, and know his mom Arleen, his dad Joe, Jr. and his grandmother Nancy Girard very well, but I still haven't been able to get a clue from any of them.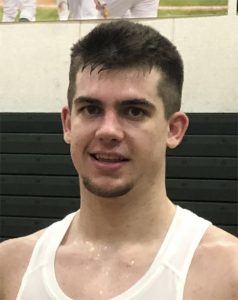 What I have done is carefully analyze JG3's words, and the activities of the last couple of weeks. That, plus a working knowledge of the game of college recruiting, allows me to offer an educated guess on where Joseph will end up.
Early on, I would have said Duke or Michigan. Who says no to Duke, right? Well, Joseph will. He wants to play. His competitive fire burns very hot. He's got an edge, a chip on his shoulder. He wants to play, and he wants to win. The latter is guaranteed at Duke. The former is not.
I thought Michigan had the upper hand because of the relationship his dad has with Wolverine coach John Beilein. But after Joseph told me "you've got to figure out what is best for you, not what is best for your dad," I think Michigan is a long shot.
So is Notre Dame. Both schools play an offensive scheme perfect for JG3, but as his father said, "They both have two or three JG3s."
Penn State? I don't think Joseph is enamored to go to Happy Valley.
That leaves us with Boston College and Syracuse. I'm guessing it's down to those two schools.
Sunday morning, I was convinced Joseph would be going to Boston College. BC has been on him since the beginning, and all the signs pointed to Chestnut Hill. Up-and-coming program. Great young coach. Fabulous campus in a cool city. Close to Glens Falls. Then, everything changed.
Julian Rishwain, a 6-foot-5 combo guard/sharpshooter from Los Angeles, committed to BC. His other finalists were Wichita State, San Francisco and Colorado.
This kid can play. He can shoot the rock. He's silky smooth. He's got great vision on the court. He can pass. He rebounds. And he plays the same position Joseph does.
So that leaves Syracuse, which has put on the full-court zone press late. Jim Boeheim and Gerry McNamara were here last week, trying to seal the deal. That's no coincidence.
On Sunday at 7 p.m., I'm predicting Joseph Girard III will put on a Syracuse Orange hat, making Coach Boeheim and Coach McNamara very happy guys.
Copyright © 2018 Lone Oak Publishing Co., Inc. All Rights Reserved.