By Cathy DeDe, Chronicle Managing Editor
Last winter The Sagamore Resort in Bolton Landing introduced an ice bar to the north country. Now it seems to be the hottest trend around.
Not only is the Sagamore bringing back its ice bar, Dunham's Bay Resort on the east side of Lake George and Cirelli's Osteria in South Glens Falls are doing ice bars, and St. Mary's-St. Alphonsus school has one planned at The Great Escape Lodge as a fund-raiser.
The Sagamore Resort's second annual Ice Bar, outside on the terrace overlooking Lake George, opens this weekend, Friday to Sunday, Jan. 23-25, and continues the following weekend, Jan. 30-Feb. 1.
"Last year's ice bar was an overwhelming success," says Sagamore General Manager Tom Guay. "It was very busy for us both weekends, truly amazing to see how many people came to see this — and from Glens Falls, Queensbury. It's truly a local event. We're excited for that."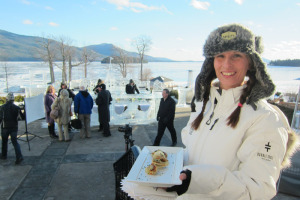 "There's a group of people on Facebook who are all taking about it, coming up together on one day. Everyone you talk to says 'we're coming up on this day or that day.' The town of Bolton — the restaurants and bars all did well for the Ice Bar too," Mr. Guay said.
"It's a thing, yes," Mr. Guay says. "It's crazy." He said he's pleased to see other area restaurants getting into the gig, too.
"Anything we can do in January, February and March to add excitement to the region, I think it's huge."
Last year's ice bar two weekends contrasted — frigid cold on opening weekend, more user-friendly the next weekend.
However, Mr. Guay notes, "the ice really sparkled" on those cold days. Warmer temperatures temper the ice, so it's not as impressively crystal clear.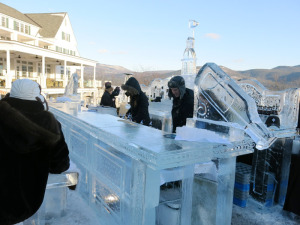 The ice bars at Cirelli's Osteria and Dunham's Bay Resort will each be for one weekend only (but on different dates).
Cirelli's ice bar is set for this week, Thursday to Saturday, Jan. 22 to 24.
"We've been planning it since last year with Chef Charlie Jones, the Iceman," Mr. Cirelli says. "We wanted to give people something here, rather than have to drive all the way to the Sagamore."
There will be special drink tastings each night — Larceny Bourbon tonight, Thursday; Tito's gluten-free vodkas on Friday; and brews from the new Common Roots Brewery, just down Route 9 in South Glens Falls, on Saturday.
Additionally, "we'll have hot chocolate for the kids, and maybe pizzas from our new pizza oven," Mr. Cirelli said, plus themed drink specials out on the patio and inside as well. "Dress warm," he advised.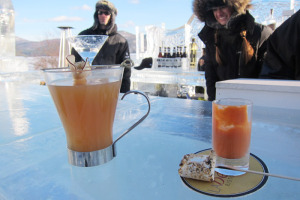 The ice bar will be eight feet long, up on pedestals and lighted, said Mr. Cirelli.
"We will have ice sculptures around, all lighted. We will have ice chairs, with fur on them so you can sit comfortably, and ice tables, and a small outdoor fire pit. It's called The Ice Lounge and Bar. It draws attention, to do something different, and it keeps us outdoors in the wintertime, which is good."
Mr. Cirelli adds, "It's great to have something cool and neat around. Glens Falls always has something going on. South Glens Falls has nothing."
Dunham's Bay's ice bar is the first weekend of the Lake George Winter Carnival, Friday and Saturday, Feb. 8 and 9.
"Yes, we've joined the rank and file," says Dunham's Bay General Manager Matthew Taormino. "The little twist for us is we're doing it in the name of the Open Door Mission" — a portion of proceeds will benefit the Soup Kitchen and Code Blue Shelter.
"People do a lot of donations around Thanksgiving and Christmas and the end of the year but at the top of February, the Mission still needs funding," said Mr. Taormino. "We'll pass the hat around for the Open Door, and have some fun celebrating the first weekend of Winter Carnival."
He says the setting is ideal. "Our patio leads out perfectly to look out over the bay, to a full 180-degree view of the lake itself. It's the only place on that side of the lake where you can look out and see the sunset right there over Lake George."
Mr. Taormino says they'll have special themed drinks and hors d'oeuvres, including specials with event co-sponsor Larceny Bourbon. He expects the bar will be eight to 12 feet long —"long enough for a human being to stand behind it and serve…
"It will have lighting and decorative ice things too. We'll have a couple of bonfires there, to keep ourselves toasty."
Mr. Taormino said his staff is "excited, though some of them said they'll take the shorter shifts. I just keep praying it stays this cold."
Expanded ice bar at The Sagamore

This year's ice bar at the Sagamore Resort in Bolton Landing will be four feet longer on either side — to approximately 24 feet overall.

That's not just to impress, said Sagamore General Manager Tom Guay.

They needed room for another bartender. "We're ready for a busy weekend," Mr. Guay said. They're also adding an indoor bar in the front lobby, to accommodate expected crowds.

There will be a bonfire, with s'more kits available at the front desk, and music is by saxman and singer "Matty B."

Themed cocktails will include a "Winter Kiss," with vodka, Limoncello and cranberry juice and "The Avalanche," with white chocolate, Kahlua and warm milk.

The Sagamore Ice Bar will be built from "well over" 10 tons of ice, brought in from Pennsylvania, cut square and "crystal clear," Mr. Guay said.

Sagamore Food and Beverage Director Bobby McElhenny oversees it.

It will be carved by a team from The Sagamore's sister resort, The Samoset in Rockland, Maine, which opened its own ice bar last weekend. Samoset Executive Chef Tim Pierce leads the crew.

The Sagamore Resort Ice Bar will operate for two weekends, Fridays to Sundays, Jan. 23-25 and Jan. 30-Feb. 1.

Hours are Friday from 4 to 10 p.m., Saturday noon to 10 p.m. and Sunday noon to 4 p.m. — Cathy DeDe
Copyright © 2015 Lone Oak Publishing Co., Inc. All Rights Reserved.