By Gordon Woodworth, Chronicle News Editor
The Glens Falls High School football team will seek its second New York State Class B championship in three years Saturday, Nov. 24, at noon in the Carrier Dome in Syracuse.
They'll face perhaps their stiffest challenge yet. Opponent Batavia is undefeated (12-0) and features record-shattering senior running back Ray Leach, who ran for eight touchdowns and 474 yards in Batavia's 54-49 semi-final win over Skaneatales.
But Glens Falls (10-2) rolled up 470 yards of its own in last Saturday's convincing 48-28 semifinal win over Marlboro.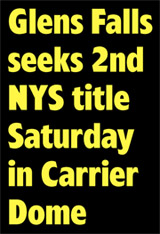 The game will be broadcast live on local radio stations WWSC, 1450 AM, and Hits 95.9 FM. It will not be telecast, but it will be live-streamed online at www.nfhsnetwork.com, with a $9.99 monthly subscription.
Batavia's star running back Ray Leach last Saturday broke his own state tournament record for rushing yards in a game and tied his own record for touchdowns in a game. The previous week, he ran for 417 yards and eight touchdowns in a 56-28 win over Cheektowaga. In all, he has 2,602 yards rushing and 46 touchdowns for the season, 5,387 rushing yards and 82 touchdowns for his career.
"He's had a great season just in the last two games with 900 yards rushing and 16 touchdowns," quipped Glens Falls Coach Pat Lilac Sunday night while watching film of the Batavia-Skaneateles game.
"He's is a big, strong kid who runs very well. He's powerful. He's legit."
How will Glens Falls stop him? "It comes down to tackling," Coach Lilac said. "This kid is a big, strong, talented kid. He runs through arm tackles. He pre-sents a real challenge."
But so does this confident Glens Falls team that rolled up 470 yards in offense in a convincing 48-28 win over Marlboro in the state semifinals on Saturday, Nov. 17.
Sophomore Aalijah Sampson scored four touchdowns and rushed for 134 yards, senior captain Trent Girard caught five passes for 114 yards and Joseph Girard III threw for 306 yards and recovered a fumble for a touchdown as Glens Falls advanced to the state championship game for the second time in three years.
The Indians won Glens Falls's first state title in 2016. Last year they lost in the semifinals, 20-7, to Pleasantville. In 2012, they lost the title game, 42-12, to Maine-Endwell.
Since a 55-27 loss to Class A state semifinalist Burnt Hills on Oct. 6, the Indians have outscored opponents, 205-41, in five playoff games. Sturdy and reliable line play, along with a stout defense and a big-play offense has brought the Indians to the brink.
Offensive line stood out vs. Marlboro
Coach Lilac said going into last weekend's Marlboro game, "we had real concerns about how our offensive line would match up against them, but our kids did a good job of neutralizing them and not allowing them to have their way."
Senior Thompson Collins anchors the athletic offensive line at center. Guards are seniors Connor Girard and Tom Cahill. Tackles are senior captain Kyle Vachon and junior Nick Danahy.
Defensively, Coach Lilac said the Marlboro quarterback "was very athletic, but he didn't kill us. He had one long run and a couple of drive-extending scrambles, but for the most part we kept him under control, which was key."
Coach Lilac called Sampson "electric" and said he made the play of the game late in the third quarter with Glens Falls holding a 28-21 lead.
"Joseph threw him the ball and he made a few guys miss on that long touchdown that broke the game open for us."
Just 16 seconds later, Joseph Girard III — named the Defensive Player of the Game — picked up a fumble and ran 25 yards to put the Indians up two touchdowns.
Coach Lilac said, "I don't think our kids are satisfied with just getting to the championship game again. They've always been about winning and competing. They are not out there to just have fun. It's a tribute to their work ethic and their athletic ability that they have gotten this far again."
Coach Lilac said it's fitting the game is two days after Thanksgiving "because so many folks have stepped up for us. It makes you feel grateful. We have a lot to be thankful for."
He said Leland Paper and Northeast Promotional Group had team sweatshirts made, the Romeo family that owns Carriage Traders fed the team, staff and those on a spectator bus before last Saturday's game, the D'Ella family paid for the spectator bus, Angelina's Pizza donated several team meals, the Grandstanders paid for meals and practice at the Adirondack Sports Complex, and Chase Sports' Hank Pelton is allowing the team to practice indoors on Thanksgiving. "And our superintendent, Paul Jenkins, along with our athletic director Chip Corlew and his administrative assistant Karen Hoskins have been fantastic. It truly takes a village, and we are most grateful to everyone who has helped out during this playoff run."
Copyright © 2018 Lone Oak Publishing Co., Inc. All Rights Reserved.