The 1892 Wilmarth Building at 126 Main Street in Greenwich was destroyed by fire on Sunday, Feb. 6. No one was injured although the fate of some pets wasn't immediately known.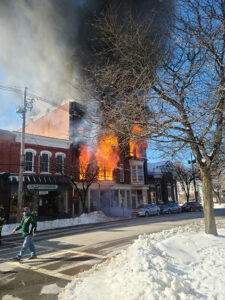 A man who fled the building was charged with arson, said the Cambridge-Greenwich Police Department
"Witnesses stated they saw a subject jump out a second story window and take off on foot in a westerly direction.
"With assistance from Washington County Sheriff's office K9 and State Police we were able to locate the subject.
"Upon further investigation with the assistance of State Police investigators, 48-year-old John M. Fox of California was arrested and charged with Arson 2nd, Criminal Mischief 2nd, and Reckless Endangerment 1st."
Building owner Marta Ward said there were six apartments, a real estate office, accountant, hairdresser and a photography business in the building, Albany's Times-Union reported.
She said everyone appeared to have made it out safely, but expressed concern some residents' pets did not.
"This will be like a missing tooth in the Smile of Greenwich," Pete Carrolan said to The Chronicle. "It was a massive fire; the Greenwich folks are lucky their firemen were on the ball, They could have lost that whole side of the street."
•
A Gofundme effort for Clifford Oliver Mealy, who lost his photography studio in the fire, raised $20,916 of its $10,000 goal in 23 hours. It said he " lost the majority of his photography equipment — cameras, lens, lights, a printer, backdrops, an antique camera collection and most heartbreaking, decades of irreplaceable work….In addition to his photography, Clifford is a beloved fixture in Greenwich, as a Black history tour guide, volunteer and board member at the Greenwich Free Library, and ex-crossing guard with his dog, the late Sophy."
Also: See battenkillstrong.org for additional opportunities to aid those impacted by the Wilmarth building fire.
Copyright © 2022 Lone Oak Publishing Co., Inc. All Rights Reserved