By Gordon Woodworth, Chronicle News Editor
It's good to be Joel Wincowski these days. The Lake George High School guard is still the talk of the North Country after his heart-stopping, nothing-but-net 30-footer with 1.6 seconds left lifted the Warriors to their second state title in three years on March 21. There's a maple bacon donut named after him at Caffé Vero, and his humble, quiet demeanor has won him fans all over.
"It's been pretty fun this week," he said Sunday, sitting on the couch in the front room of his family's home that overlooks Lake George.
Sitting next to him was his father, also named Joel. A former vice-president of St. Lawrence University, he's now a vice president and executive for the Registry of College and University Presidents, which helps schools with enrollment issues.
Joel's mother, Carol, a teacher in Wells, Vermont, sat in an easy chair.
"We're all enjoying this," Wincowski said quietly. He meant his teammates and coaches, but you can include his parents, siblings and the community, too.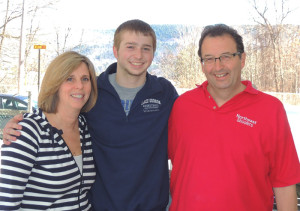 A parade down Canada Street, and ceremonial cutting down of the nets, is scheduled for later in April, after spring break, Carol said.
At that point, Joel — her youngest of five children — will be playing high school tennis, finishing up the Spanish class he's taking through the University at Albany, and getting ready to start college at the University of Maryland-Baltimore County, which plays in the same conference (America East) with UAlbany, Vermont and New Hampshire.
"I will be heading down in early July, and might take a summer course," Wincowski said.
Academics is very important in the Wincowski household. Joel carries a 91 average. His older brother Ethan is in the Physician's Assistant program at Daemon College in western New York. (Ethan is also one of Daemon's top tennis players, having picked up the game at Lake George High School.)
"Mom was a principal, so she's the one I've really got to worry about," Joel said, smiling.
Committed to UMBC in September
Section II's all-time leading scorer, Wincowski was a hot commodity heading into this season. UAlbany and Siena had offered him scholarships. Other mid-major programs, like Boston University, had, too.
But a September visit to UMBC sealed the deal. He verbally committed, and then signed his National Letter of Intent in November.
"On my visit, I got to play with the team, and I felt I fit in perfectly," he says. "There were no egos. It was my style of basketball. Everyone shared the ball. I felt like I fit in.
"Plus, I really liked the coaching staff. They are young and I think they will push me to be the best I can be. And Coach Thomas told me the others players told him that they enjoyed playing with me. That made my decision even easier."
UMBC is in a rebuilding phase under fourth-year head coach Aki Thomas. The Retrievers went 4-26 in 2014-15 after losing Rodney Elliott, their best player, to injury in the second game of the year.
"My goal is to play as a freshman," Wincowski said. "It all depends on how hard I work."
He called UMBC a "great academic school." He said he might create his own major. "I really enjoy Spanish, and I might pair that with economics or business management."
Wincowski said that once he signed his national letter of intent in November, other college coaches weren't allowed to contact him, which was fine with him. Signing early made for a pressure-free senior season, he said.
"All four UMBC coaches came to see a game this season, and Coach Thomas called me on the bus ride to the state championship game to wish the team well," he said. "That was pretty cool."
Reached by phone, Coach Thomas said "the first thing that attracted me to Joel was how good a person he was, and what a great family he was from. We're rebuilding a program here, and we have got to start there. We need talent, of course, but we need good people first and foremost, and Joel is a good person.
"On the court, his body of work speaks for itself. He has a good feel for the game and a high basketball IQ, and all of that makes him a perfect fit for us, on and off the court."
Family moved from Hartford to LG
Wincowski started his varsity basketball career as an eighth-grader at Hartford Central School. The family moved to Lake George before his freshman year.
Mr. Wincowski said the decision was driven by "a combination of academics and athletics. We wanted to find a better fit for Joel and his older brother Ethan."
Lake George, it turns out, was a perfect fit. The Warriors won the 2013 Class C state title, with both Wincowski boys playing pivotal roles.
"It was always a goal of Ethan and myself to win a state championship together," Wincowski said. "We had some tough breaks my junior year, but we came back with a very dedicated team effort this year."
Lake George was one of several communities the Wincowski family considered.
Mr. Wincowski said when they decided on Lake George, they went in to meet with basketball coach Dave Jones.

"He had no idea we had decided to come to Lake George, and he said he was sure Ethan would play on varsity. But he said freshmen play JV here.
"I'll never forget it. Joel looked at him, and said, 'No disrespect, Coach, but I want to know what I can do to start for the varsity.'"
Contacted for comment, Coach Jones laughed and said he told Wincowski that to start he needed to be the best player.
"I wasn't surprised he asked the question," he said. "I had watched some tape and I was aware of their skill sets."
'Great teammate, great influence'
Of Wincowski's impact at Lake George Coach Jones said "first and foremost, I think about what a great teammate Joel has been. He's been a great influence on the younger kids. He's constantly officiating the younger kids' games. He's been very giving to your program, and a great teammate."
After winning a state title as a sophomore, and being named New York State Class C Player of the Year, Wincowski had options.
"Prep schools came after him hard, wanting him to come play for them for free," his father said. "But Joel is a very committed kid. He was very committed to the school and his coach."
Coach Jones said, "Certainly he did have other options, but he's been very loyal to the program. I think he was comfortable here."
Wincowski said, "It surely all worked out. I'm proud to call Lake George home."
He said as far back as he can remember, he was playing basketball with his three older brothers, Ethan, Matt and Bob. He also has an older sister, Valerie.
"I had the little tykes' hoop and they had the big hoop," Wincowski remembers. "I was never allowed to win a game unless I earned it. I didn't win until I was in third grade."
His dad said, "They were brutal. They never allowed him to win. And now, he'll never allow them to win!"
Wincowski said his oldest brothers were "pretty good players. Bob was all-state in Texas, and Matt was all-state in Indiana. And Dad has been a basketball coach most of his life."
Dream of playing pro? You bet!
As to Wincowski's future goals, does he dare dream of playing professionally?
"A successful college career is a priority," he said, "And if that leads to me playing professionally, great. I would love to play professionally overseas."
UMBC Coach Thomas played Division I ball at the University of Colorado and Howard University, and then played professionally in Venezuela.
Eventually, Wincowski said, "I would like to be coaching somewhere. I'm helping Justin Nassivera coach the Lake George/Fort Ann AAU team now."
Next year, local fans will have several opportunities to see Wincowski play in person. The Retrievers will play at UAlbany, UVM and UNH. UMBC also has Georgetown on its schedule.
"I think Joel will be very successful in college," Coach Jones said. "He's a tremendously hard worker, he'll do whatever is asked of him, and if he doesn't do it right to start, he'll keep doing it and figure it out. He will put his time in and I think he'll have a nice career there."
Copyright © 2015 Lone Oak Publishing Co., Inc. All Rights Reserved.