By Hannah Hughes, Chronicle Summer Staff
Four luxury camping tents at the Fort Edward Yacht Basin in the heart of downtown are now in place and ready to be booked. Prices start at approximately $150 a night.
The company responsible, GlampADK, specializes in "glamping" or "glamorous camping," with large tent set-ups that include beds and furnishings.
GlampADK operates Adirondack Safari, with 59 tents on the Warren County Fairgrounds.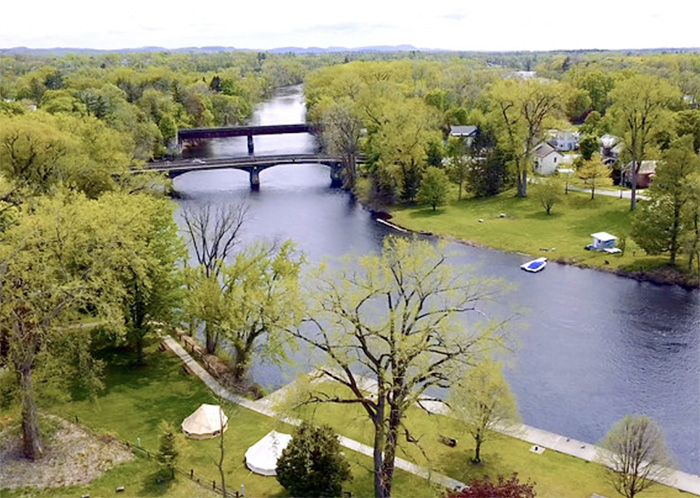 Fort Edward is one its newer pop-up locations. Another is at Champlain Canal Lock 5 in Schuylerville.
"I think it's a great opportunity to help put Fort Edward back on the map and help these other businesses that have gone before me," said Andrew Percetti, owner of GlampADK and Adirondack Safari.
At Adirondack Safari at the Warren County Fairgrounds north of Warrensburg, they offer luxury amenities and include activities like river tubing, silent disco parties, and paint n' sip classes.
"We have a lease with them, so that money goes right back to the county," Mr. Percetti said.
He said that the leasing processes in Fort Edward and Schuylerville are "fairly the same…We're using property that's already there and we generate funds that will go back towards the individuals, and the village, and the Power Authority, and the Canal Corporation. It goes back to them to invest into giving the public additional services and better opportunities."
Fort Edward Mayor Matthew Traver said the Yacht Basin is a public space managed by the village, and "GlampADK will help with some of the grounds keeping as well as the bathhouse maintenance. We will be working with Glamp-ADK on what areas of the park that they will take care of."
Asked how the Fort Edward location came about, Mr. Percetti said he was approached by "Promote Fort Edward."
Nasrene Haj, a local resident and member, said it is "an organization of business owners and residents who are working together to grow Fort Edward into a thriving tourism and recreation destination."
Ms. Haj says they chose Mr. Percetti and GlampADK because it could provide short-term rental opportunities for tourists right in Fort Edward, something Ms. Haj believes the town needs.
"When the idea of bringing glamping to Fort Edward this summer was introduced to the Promote Fort Edward group, we quickly saw this as a top priority for this summer." Ms. Haj said.
When Mr. Percetti brought this idea to the town and Mayor Traver, he said it was received fairly well. The mayor hopes the "glampers" will take part in activities downtown. "We are excited that visitors will find out that we do have much to offer," Mayor Traver said.
Guests in both Fort Edward and Schuylerville can take part in activities at GlampADK's Adirondack Safari in Warrensburg at no additional charge.
But Mr. Percetti says Fort Edward and Schuylerville have plenty to offer all on their own. "Guests have the ability now to use the Empire Trail System and ride a bike from Fort Edward to Schuylerville. They can canal from one…to the other because both of them are right on the water."
As for future plans, "we're looking to expand GlampADK to other spots, possibly." Mr. Percetti said.
He said that the company will soon have tents available to purchase, by either individuals or other facilities. For now, it seems "glamping" might just take off on the Yacht Basin. "I think it's a new creative way to attract new people to Fort Edward!" Mayor Traver said.
Copyright © 2023 Lone Oak Publishing Co., Inc. All Rights Reserved