By Gordon Woodworth, Chronicle News Editor
The Glens Falls football team advanced to the Class B state regional finals with a rainy, windy, 21-7 win over Beekmantown last Friday night in Clifton Park.
The 9-2 Indians — winners of five straight games and three straight Section II championships — play Marlboro (10-1) of Section IX on Saturday, Nov. 17, at 3 p.m. at Middletown High School's Faller Field.
Marlboro beat previously unbeaten Ardsley, 27-19, to reach the regional finals.
The Indians won the school's first state title in 2016, and lost last year in the semifinals, 20-7, to Pleasantville. They have reached the state semifinals three straight years.
Saturday's game will not be telecast, but it will be live-streamed online at www.nfhsnetwork.com, with a $9.99 monthly subscription.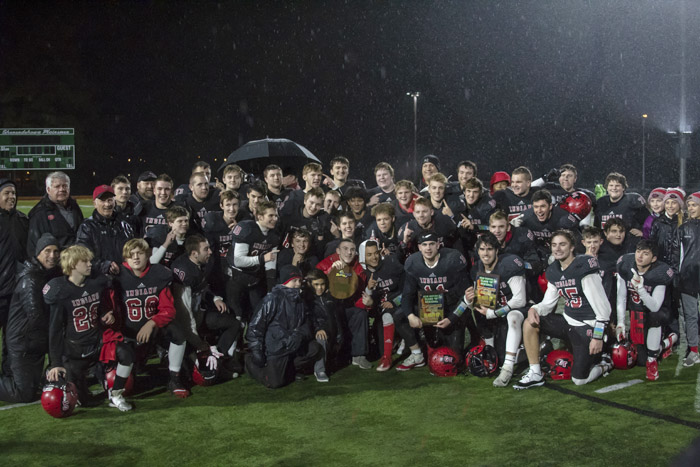 At stake is a berth in the Class B state championship game at the Carrier Dome in Syracuse Saturday, Nov. 24, at noon against either 2017 Class C 11-0 champion Skaneateles (Section III), or 11-0 Batavia (Section V).
Coach Pat Lilac's Indians have lost only two games, both to Class A schools. They fell to Queensbury, 48-34, Sept. 22, and to Burnt Hills, 55-27, Oct. 6.
Burnt Hills plays in the 'A' state semifinals Friday night against Cornwall.
Since that loss to Burnt Hills, the Indians have rolled, outscoring their opponents, 157-13, in four playoff games.
Key players like two-way captain Kyle Vachon have gotten healthy, and the offense, led bystandout quarterback and Syracuse University basketball recruit Joseph Girard III, is explosive and dangerous.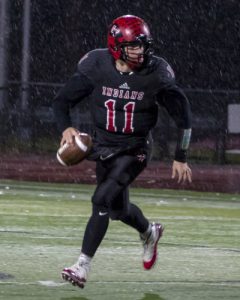 "Surviving and advancing is the #1 thing," Glens Falls Coach Pat Lilac said. "Looking back on the Beekmantown game, it didn't hurt that it was a bit closer, because they are only going to get tougher from here."
The Indians are led by five captains: Seniors Joseph Girard III (the school's all-time leading passer who has thrown for 2,458 yards and 31 touchdowns this season), top receiver Trent Girard, lineman Kyle Vachon and injured wide receiver Noah Balcom; and junior all-around standout David Barclay.
Glens Falls is not deep, but is versatile at key positions. The Indians have tremendous speed at the skill positions, nimble and powerful linemen up front, and crushing tacklers like Vachon, Barclay and Class B North Division co-defensive players of the year Thompson Collins and Nick Danahy on defense.
Vachon said, "This is our third year getting to this point, and it feels amazing. We don't take it for granted. It's something special. We're one of four teams left playing in Class B. That's special."
Joseph Girard III calls the team unique because "we're so close. We've grown up together, we're used to each other, we know what pokes the bear and what fires us up. We just love playing together."
Another key is "total team speed," Girard said. "This is the most athletic offensive line we've had in my time here, and maybe ever. They make it a lot easier on the skill guys and they make my job a lot easier, especially if I'm scrambling around a lot.
"We just need to stick to our game plan of playing Glens Falls football. I think we got too complacent last year, and that hurt us. We have since changed our mind-set and we're playing as one team."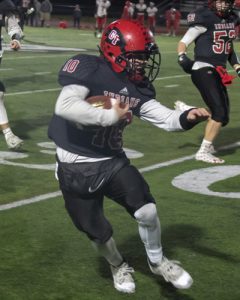 Kyle Vachon said, "We're all together. We are Glens Falls tough, and Glens Falls family. We have overcome obstacles this season, like the injuries to Griffin Woodell and Noah Balcom. If we can play our best game, I'm pretty confident we will come out on top."
Coach Lilac, in his 19th season, said, "The kids understand the urgency. We feel very fortunate that we have been able to get here three years in a row, understanding how hard it is to get here. So I think now, with those kids who are seniors and who have been through it, they really appreciate it and just want to take advantage of it and not leave anything to chance."
Like Vachon, Coach Lilac talks of the team's mental fortitude. "I have been impressed with the resiliency and toughness that they have shown. We've had a couple of kids go down with pretty significant injuries and the next guys up have played well.
"I think the closeness that this team has is even stronger than the last two years, even when we won the state championships. These guys have really turned into kind of a one heartbeat kind of team."
"There's a fine line between being too tight and being too loose," Coach Lilac said. "We want them to be focused but at the same time I want them to be able to enjoy this experience. We've kind of said that in the past: enjoy the ride, but don't let those distractions carry over onto the practice field."
About this week's opponent
Coach Lilac said "Marlboro is a really blue-collar type of team. They do run a spread offense, but they have a quarterback [Sam Mongelli] who is very athletic and a great runner, and a really tough tailback [Ameer Williams]. And they seem to be very good on the offensive and defensive lines.
"It will probably be the toughest Class B team we've played this year."
Coach Lilac's final charge to his team this Saturday will be "play together…These guys, besides having all of those kids who are cousins, they are kind of like brothers. They've been playing together since they were young. When you're playing for a brother, you're going to fight all the harder."
Coach Lilac talks about each player
"#1 Jamal Rawling – Athletic junior wide receiver and defensive back who will have to step right in next year
#3 Cooper Montgomery – Junior running back who has played great during the playoffs for us
#5 David Barclay – Junior captain and two-way starter is one of the best all-around players in Class B
#6 Noah Balcom – Senior captain and go-to receiver and defensive back suffered a season-ending knee injury in week 1
#7 Aalijah Sampson – Sophomore running and defensive back. Really tough player who is electrifying in the open field
#10 Trent Girard – Senior captain and great wide receiver and defensive back. Unbelievably competitive and a great kid
#11 Joseph Girard III – Senior captain and quarterback/safety. Coach on the field. His accomplishments speak for themselves
#12 Liam Gormley – Senior receiver and defensive back who has worked very hard to become a good player. A great kid
#15 Hogan Fox – Junior first-year wide receiver who has been a tremendous addition to our offense and to our team
#19 Brian Hanlin – Senior receiver and D back. Two-year player who works hard and does anything to benefit the team
#26 Noah Girard – Sophomore quarterback and defensive back. Joseph's backup at quarterback, and has also been a major contributor defensively for us
#28 Ryan Fleeman – Senior defensive back and wide receiver. Continues to work every day to improve. Great teammate
#30 Sam Hogan – Senior kicker. Has had the biggest impact any kicker has ever had on our program. He's a weapon
#31 Cyrus Guillet – Sophomore kicker and Sam's replacement at kicker next season. Has a strong leg and a ton of potential
#32 Griffin Woodell – Freshman running back and linebacker. Tough kid, excellent football player. Very bright future
#33 Aidan Hirsch – Sophomore All-Everything for the JV team this year. Has impressed us the last three weeks with his toughness and athleticism
#35 Terrelle Bonner-Welch – Linebacker and our most improved player. Has been a nightmare for opposing teams rushing the quarterback
#44 Eric Thomas – Senior wide receiver and linebacker. Great team player, hard worker and high character kid
#50 Connor Girard – Senior linebacker and offensive lineman. Two-way starter who epitomizes Glens Falls toughness. Gives everything he's got
#51 Logan Gonyea – Sophomore lineman up from JV who has shown some good things since coming up and will be competing for a spot on the line as a junior
#52 Kyle Vachon – Senior captain and tackle/linebacker. Three-year starter at linebacker. Gives us a tremendous physical presence and nose for the football on defense, and a great blocker on offense
#53 Tyrone Jackson – Junior offensive and defensive lineman. First-year varsity player who continues to improve
#55 JT Lapham – Junior lineman and end. Great person & student-athlete. Started at tackle when Kyle was injured and did great. Will be a major player as a senior
#57 Kevin Quirk – Junior defensive end who has had some very good games for us. Will have to be a go-to guy as a senior
#60 Isaiah Murray – Junior linebacker. Has worked hard and is going to have to be able to step in and play as a senior
#62 Parker Stafford – Sophomore wide receiver up from the JV. Great kid and hard worker who has a huge upside
#63 Carter Roberts – Sophomore lineman up from JV, has opened our eyes with his ability and toughness to compete
#64 T.J. Guy – Junior LB/OL. Injury has kept him sidelined. Has a ton of potential as a player for us next season
#65 Dylan Niro – Junior defensive lineman. Continues to improve, and became starter by hustling and having a great motor
#66 Nick Danahy – Junior offensive and defensive lineman. Great kid and awesome player. Has been a rock on both sides of the ball. Unlimited potential. Co-defensive player of the year with Thompson Collins
#69 Tom Cahill – Senior offensive lineman. Great work ethic. Has developed into a very good offensive lineman for us
#71 Thompson Collins – Senior offensive and defensive lineman. Two-way starter who has developed into a great player, & a great leader. Co-defensive player of the year along with Nick Danahy
#73 Jacob Ashe – Sophomore lineman up from JV. Great kid with potential. Will compete next season for spot on the line
#75 Aidan LaFond – Sophomore lineman up from JV. Great kid, solid work ethic. Will compete for spot on offensive line
#76 Aaron Gilles – Junior offensive and defensive lineman who continues to work and improve who will be counted on next season
#78 Pat Vaughn – Sophomore offensive lineman up from JV. Big and athletic with a ton of potential
#79 Hunter Suttle – Junior defensive lineman who is a great run stopper for us. Has a ton of potential
#80 Brendan Quirk – Senior DB/WR. Became two-way starter, improved in all phases, and has had a great senior year
#81 Matteo Wells – Senior linebacker and first-year player who has really shown improvement. Works hard. A team-first guy
#85 Wade O'Brian – Senior wide receiver and linebacker. Great kid and teammate. Has improved every year and has ability to play multiple positions
#89 Connor Sweenor – Sophomore linebacker and wide receiver. Came up from JV and has worked hard. Shows promise as a wide receiver and linebacker
Jackson Brand – Sophomore wide receiver and defensive back. Up from JV who has shown quick feet and athleticism. "With hard work in the off-season could be a big addition next season."
Copyright © 2018 Lone Oak Publishing Co., Inc. All Rights Reserved.