By Gordon Woodworth, Chronicle News Editor
The Chronicle talked by phone Sunday with Congresswoman-elect Elise Stefanik in Washington, D.C., in the midst of an eight-day orientation.
Ms. Stefanik said she had "just finished a brunch with Mia Love [Utah], Mimi Walters [California], Martha McSally [Arizona] and Barbara Comstock [Virginia], who are the other newly elected Republican women."
Ms. Stefanik at 30 is the youngest woman ever elected to Congress.
Ms. Love, the former mayor of Saratoga Springs, Utah, is the first black woman ever elected to Congress as a Republican.
Ms. Stefanik noted also that "I got to know [Democrat] Kathleen Rice, who is a member of the New York delegation from Long Island, at an event, and Seth Moulton, a Democrat from Massachusetts who was an underdog in his race and beat the incumbent in his primary. He is someone I hope to work with as well."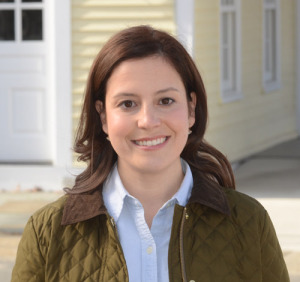 Asked who else she has clicked with, Mr. Stefanik mentioned two other newly elected New York Republicans: Lee Zeldin, 34, from Long Island, who served as a legal advisor to Chris Gibson when the now Congressman was an Army battalion commander, and former U.S. Attorney John Katko from central New York.
From Sen. Gillibrand, Rep. Tonko
Ms. Stefanik said of the new-member orientation that started on Wednesday, Nov. 12, at 4 p.m., "it's a lot of information, and I've really been touched by how warmly welcomed everyone is, not just within your own party.
"[Democratic] Congressman Paul Tonko warmly welcomed me and recognized me when he was speaking on a panel. There is really a camaraderie that we could use a bit more of during the governing sessions of Congress. The bipartisan nature of orientation…it's a really special time."
Ms. Stefanik said she would meet this week with New York's U.S. Senators Kirsten Gillibrand and Charles Schumer, and with Bill Owens, the Congressman she's succeeding, "to build relationships within the New York State delegation."
Sunday Ms. Stefanik "tweeted" an exchange she had with Sen. Gillibrand, who invited Ms. Stefanik to join the women's Congressional softball team that plays a breast cancer research benefit game.
Ms. Stefanik tweeted in reply: "Would love to! Sign me up, Captain."
Sen. Gillibrand responded, "Great! We need another starting pitcher!" Ms. Stefanik's tweet referenced a Post-Star news item about the softball team invite.
Ms. Stefanik said Congressman Chris Gibson "always reaches out to the New York state members, as does Congressman Richard Hanna." She said working with Congressman Gibson is important "particularly since he used to represent Warren, Washington and parts of Saratoga County that are now in this district. He has had a lot of great advice and I hope to work with him on a number of issues, like agriculture issues and Lyme disease. He's been a strong advocate for our region."
In 2010, NY's Democrats had 27 of 29 House seats; now GOP holds 9 of 27

Republicans in New York State have gained much ground congressionally.

When Barack Obama was first elected President in 2008, Democrats gained three new members in the House of Representatives, giving them 26 of New York's 29 seats.

When Bill Owens won a special election in the then-23rd District in 2010, it gave Democrats 27 of the 29 seats.

But when the new crop of House members takes office in January 2015, Republicans will hold nine of New York's 27 House seats. (The state lost two seats during redistricting in 2012.)

One of the new Republican House members is Elise Stefanik, who decisively won a three-way race on Nov. 4 for the 21st District seat Rep. Owens chose to retire from. — Gordon Woodworth
Emphasis on constituent service
Asked her first priority once in office, Ms. Stefanik said, "My first priority is to make sure our constituent services are top-notch. The congressional office is often the #1 problem solver in many people's lives, whether it's veterans issues or Social Security needs, and that is something that regardless of party lines, members of Congress are often judged by how strong their constituent services are.
"So I'm prioritizing setting up strong constituent services and also I'm going to continue traveling around the district and launch my mobile office, which is a promise I made during my campaign, so you will be seeing that soon."
She said of serving in Congress, "This is an extraordinary honor and privilege. Only slightly more than 10,000 Americans have ever served in the United States Congress in the history of our country. To be one of those individuals is truly an honor. You're working for the people, and we all share that. Regardless of party affiliation, people are excited to be here and to go to work for their district."
Friends for life with class members
Ms. Stefanik said that so far the experience "is sort of surreal in some aspects. It's sinking in, and it takes a long time to sink in because you are receiving so much information at such a fast pace and you're meeting so many different people from across the country. There are moments, though, when you really look around and pinch yourself and say, 'Wow.'
"A lot of it is informational sessions about how to set up an office, technology briefings to get your technology set up… and there's an opportunity to socialize and get to know the other members.
"And what I have found interesting is some of the panels with current members of Congress. They are bipartisan panels and they give advice. It's a way to really learn from them and also to just meet your classmates.
"What older members will tell you is the bonds that you have with your newly elected classmates, whether it's across the aisle or within your own party, nothing really replaces that. You stay close throughout the rest of your career."
Ms. Stefanik, in results that are still unofficial, won with 63.2% of the vote (89,764 votes). Democrat Aaron Woolf received 32.3% (54,567 votes). Green Party nominee Matt Funiciello received 10.9% (18,404 votes).
About Keystone & climate change pact with China

What does Elise Stefanik think of the climate change pact President Barack Obama signed last week with China?

"I have to look further at the details, but I certainly think that we need to deal with global warming as a global entity. It's not something where the U.S. can go it alone," she said.

"I think we need to bring India to the table as well, given how quickly they are developing. I haven't looked at all of the details, and it's certainly an important priority, but more important is energy independence and energy security for the United States.

"One of the last pieces of legislation that was voted on [last] Friday was the Keystone pipeline. Congressman Owens voted in favor of it, breaking with some members of his party, and I commend him for his bipartisan leadership.

"I think it's an example of an issue where we really need to prioritize an all-of-the-above approach. That means American-made energy which will help lower energy costs, improve our environment and make it more affordable for hard-working families and small businesses." — Gordon Woodworth
Copyright © 2014 Lone Oak Publishing Co., Inc. All Rights Reserved.