By Gordon Woodworth, Chronicle News Editor
Senior Connor Clark raised $5,189 last year for the South High Marathon Dance, and hopes to collect more this year.
"It will be a great time, with lots of dancing," Connor said. "It's fun. You see your new friends and your old friends."
Connor, a dancer since 2013, is on the autism spectrum. When he was a freshman, seniors Carly Weller and Becca LaPoint invited him to be in their group to participate in the theme dances.
"I met him during lunch one day, and I figured he probably didn't have a group for Marathon, so I asked him to be in our group," Carly said. "I think he really came out of his shell. It connected him to so many people."
Connor's mom Anne said the Marathon Dance experience "has opened his personality. He loves the recognition and loves to be the center of attention."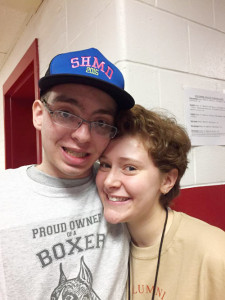 Yet he understands it's not about him. "He really gets what Marathon is about," she said. "He kind of surprises me."
"It's been a gift for me," said Carly. "We're still good friends, and he's the reason I'm a special education major [at The College of Saint Rose]."
She started as a public relations major, but quickly discovered that wasn't for her.
"Someone asked me what my most profound experience was, and I told them it was my friendship with Connor," Carly says. She changed her major that day, "and I'll be student teaching next soon."
Carly says, "My friendship with Connor has given my life great direction. People think he's a lot different from us, but he really isn't. He's just like any other high school kid who wants to be included and be involved. I'm sure without Marathon he would be in a far different place socially. It's really given him an opportunity to interact with fellow students in a meaningful way."
Becca LaPoint, now a junior at Bard College, said including Connor in their SHMD group "wasn't a big deal. We all love Connor. He's so funny, and always brightens my day. Why not include him?"
Pat Fish, now a sophomore at SUNY Oneonta, looked out for Connor after Ms. Weller and Ms. LaPoint graduated. "He saw I was friends with Carly, and that was it," he said. "He decided we were friends."
Becca said that at Connor's first Marathon Dance, "everyone saw the impact he could have. It did more for us than it did for him."
Pat said that with all the attention that Connor gets through the Marathon Dance, "it could be very easy for him to think the dance is about him, but he knew. He knew it wasn't about him. He started out on the shy end, but that has definitely changed. Everyone wanted to talk to him, and he handled it well. He's a great kid."
Copyright © 2016 Lone Oak Publishing Co., Inc. All Rights Reserved.