By Gordon Woodworth, Chronicle News Editor
Battenkill Valley Creamery in Salem has expanded, adding 178 acres of farmland and 175 milking cows by buying nearby Skellkill Farms in the Town of Jackson.
"With our growing business, we couldn't meet the demand from our home farm," said Seth McEachron, 32, the Skidmore-educated fifth-generation dairy farmer. "Now we will have enough milk for a little while, and as sales continue to grow, we have the ability to grow with them."
Seth and his parents Donald and Tracy started Battenkill Valley Creamery in 2008. Known for its chocolate milk and its high-butterfat whole milk, they bottle their products on-site and sell directly to local restaurants, retailers and consumers.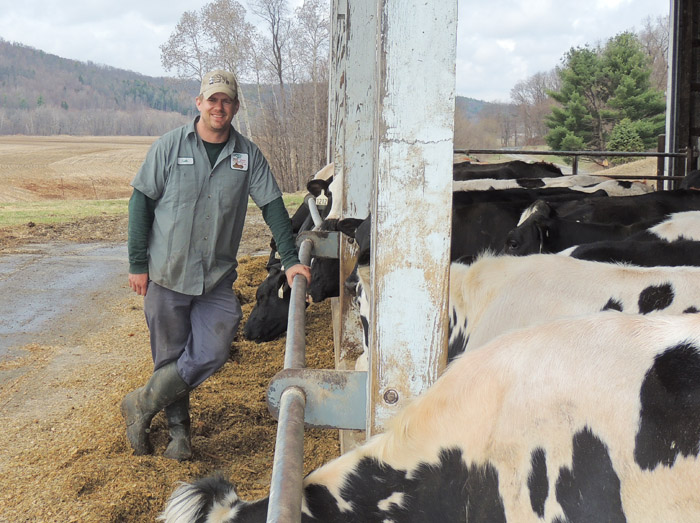 "We also produce a private label milk called Five Acre Farms that distributes down near New York City," Seth said.
Another company, Dairy Wagon, distributes to nearly 400 restaurants and coffee shops in New York City and New Jersey.
Growing demand for whole milk
"The coffee shops love us because of the high butterfat content of our whole milk," Seth said. "It's funny, it used to be skim milk and low-fat milk were the most popular, but now whole milk is more popular again. We produce a lot of whole milk because we deal with a lot of coffee shops in New York City."
Last year, he said Battenkill Valley Farms produced about 93,000 gallons of milk a month from its 380 milkers. Some months, they needed to buy additional milk to meet the demand.
"We were talking to the Skellie family about our milk supply, and they mentioned they were looking to sell," Seth said. "Steve Skellie still works for us."
Washington County land records show the McEachrons paid $1.499-million for 178.45 acres of "mostly tillable land and 30 acres of pasture," along with two main barns, a milk house and Skellkill's herd of mostly Holsteins and Holstein-Jersey crossbreeds.
Adding the Skellie's 175 milkers, plus its 140 young cows, Battenkill Valley Creamery is now producing about 140,000 gallons of milk a month, Seth said.
"It made sense for us to have our own milk supply and to have the ability to grow," he said. "We have the ability to produce more milk if demand calls for it."
Plus, the Skellie farm, renamed the Battenkill Dairy Farm, borders the river from which it derives its name. "Now we are truly right on the Battenkill," Seth said, laughing.
His family's 1,100-acre Black Creek Valley dairy farm is located on Route 30 in Salem, about six miles from their new Battenkill Dairy Farm. "It's about seven miles to the creamery," Seth said.
The home farm employs 10 people, and the Creamery another 15. The McEachrons also now employ five people who used to work for the Skellies.
NY's best milk in 2010
'Milk quality is #1 priority'
Talking to a reporter in one of the barns on the old Skellie farm, Seth said, "We do have very good milkers here. The milk quality has been fantastic, and that is our #1 priority. We strive for the high butter fat content and the high protein content, and because of those two things I think our milk is creamier.
"Our whole milk is rich and creamy because it has a butterfat content of 4% or higher. That's what the coffee shops want."
Battenkill Valley Creamery's milk won Best In The State at the 2010 New York State Fair, and was second last year.
"We've been in the top two in three of the last five years," Seth said. "We're very proud of that. It's a very competitive competition."
Did he expect to expand so quickly?
No, I didn't think we would be buying another farm this soon," Seth said. "But this is another step in our growth."
A 2004 Skidmore College graduate, with a degree in business and economics, he tried working in the corporate world before he came back home to work on the farm.
"My main job is planning, and increasing efficiencies," Seth said. "It keeps my mind busy."
He runs the creamery, his father Don runs the home farm, "and we're both helping out here. Dad has 10 times the knowledge and experience that I have."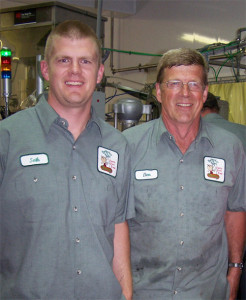 "I love what I do," Seth said. "I had a 40-hour week. Now it's more than double that. But it's been rewarding. The best part is hearing the customer feedback. They consistently tell us they love our product.
"I have to thank all of our consumers. They have been so loyal to us, and we wouldn't be expanding without their support."
Greenwich Hannaford 'still our biggest store'
Seth McEachron said Battenkill Creamery distributes its milk to more than 100 area stores and restaurants and to about 300 home-delivery customers in the Saratoga Springs area.
"We are in 17 Hannaford stores, 10 to 12 Price Choppers, four or five ShopRites, two Fresh Living Markets and the Healthy Living Market in Wilton," he said.
They also sell their milk at Lewis Super in Hudson Falls and at local farmers markets, including in Glens Falls.
The dairy's best retail outlet?
"It's still Hannaford in Greenwich," he said. "I don't think that will ever change. We have such loyal local customers. We probably sell 50,000 gallons a year there. It's still our biggest store." — G.W.
Despite up-and-down market, Battenkill's prices remain steady
Seth McEachron said the Battenkill Valley Creamery's two farms not only produce the milk they sell but also grow their own feed and breed their own stock, which stabilizes costs and, in turn, allows them to "set our own prices and keep them steady.
"Last year, when the price of milk went up, we didn't change our prices and our prices were among the lowest out there.
"Now, the prices are lower, but we've kept our price the same. We set a stable price that we think is fair. We have only had two price changes in seven years."
In starting the creamery in 2008, Seth said "our main goal was to make the farm sustainable, and to withstand prices changes by eliminating them.
"As long as sales stay consistent, we know what we get paid for our product."
To keep things simple, he said the creamery pays their farms for the milk.
"Last year, the price of milk was more than $25 per hundred weight," he said. "This year, it's $18 per hundred weight.
Our farms are paid $24 per hundred weight by the creamery. It keeps things separate, and we can see who is being efficient." — Gordon Woodworth
Copyright © 2015 Lone Oak Publishing Co., Inc. All Rights Reserved.