The 49th annual Lake George Antique and Classic Boat Show is Friday and Saturday, Aug. 25-26.
The main show is Saturday at the Lake George Village docks. There are two Friday pre-show events, in Bolton Landing and Hague. Spectators welcome, free, at all boat displays.
Saturday's main show, on land and water at Beach Road in Lake George Village, includes 50+ boats, vendors, antique Model T and Triumph sports cars, said press info. Exhibitors vote for their favorite boats in several categories, and the public selects a People's Choice winner.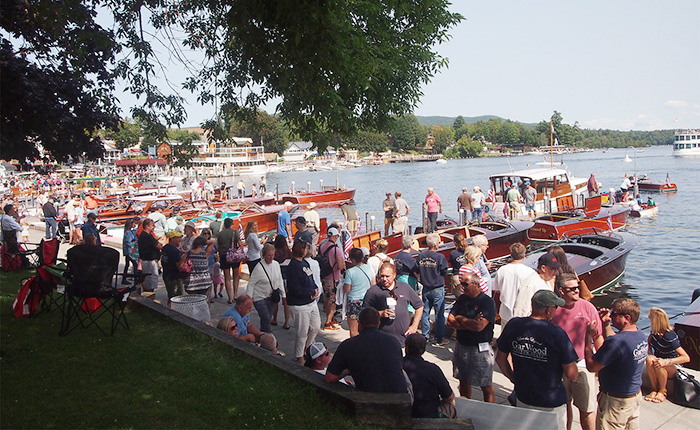 Friday: Casual public boat shows at the Bolton Landing docks at Rogers Memorial Park and at the Hague Town Park and boat ramp, 9 a.m.-noon.
Friday: Mini land display of trailered boats on Beach Road, at the Lake George Village Docks, 3-5 p.m.
Friday: Welcome cocktail party for exhibitors, Fort William Henry, 5–8 p.m.
Saturday: Exhibitor registration and set up, 7–9:30 a.m.
Saturday: Main boat show, with car show and vendors at the Lake George Village Docks and on Beach Road, 10 a.m.-4 p.m.
Saturday: Narrated "Fly By" in-water boat show and parade in the Southern Basin. Also, free boat rides for children aboard the "Adironduck," 3:15-4 p.m.
Saturday: Awards dinner for participants at the Fort William Henry, 4:30- 6:30 p.m.
Restored vs. preserved
According to the Adirondack chapter, founding member of the Antique and Classic Boat Society, traditional boats containing less than 65% of their original hull side and deck planks are considered "restored" rather than "preserved." It adds, "Bottom replacement is a safety item and should not be factored into the preserved/restored estimate." Show details on Facebook or the ACBS website.
Copyright © 2023 Lone Oak Publishing Co., Inc. All Rights Reserved