By Gordon Woodworth, Chronicle News Editor
Plans have been scrapped to open the restaurant "gaslight" in the former Bistro Tallulah space at 26 Ridge Street. Building owner Charles Mineo is now looking to lease the first-floor restaurant space, with the chef and staff intact.
"We decided to go in a different direction," Chuck Mineo told The Chronicle.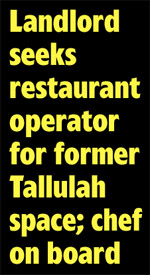 "The space is fully equipped and turn-key, with an executive chef, Colin Miner, …
Read More »